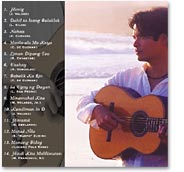 8. Usahay
9. Sa Ugoy ng Duyan
10. Babalik Ka Rin
11. Kundiman in D
12. Himutok
13. Matud Nila
14. Manang Biday

With guest Michael Walsh, guitar on track #5
Guitars by Velazquez and Fontanilla
Produced by Vicente Go


Also available at: Amazon | CD Baby | iTunes



---
About Harana
Harana is a traditional form of courtship in the Philippines in which a man woos a woman by singing underneath her window at night. Although this is universal, it was widely practiced in old Philippines with a set of protocols, a code of conduct, and a specific style of music.
In this endeavor, the most trusted instrument is the guitar where it's intimate sound complements the Spanish-influenced songs, not to mention the breezy and quiet air of a tropical night.
While the practice of harana has died, this recording arranged for and performed on solo classical guitar, preserves the music of a long-gone era of men unafraid to express their feelings through a serenade.
For a young man in colonial Philippines, it was certainly advantageous to possess musical abilities as it was often useful in wooing a Filipina woman. However, all is not lost if he lacks the talent. It was common practice to enlist friends as well as hire the best musicians in town. Thus, harana is not always a solitary endeavor. In fact, it was also considered a social event. For the endeavor to be successful either or both of these 2 instances have to happen:
1) If the lady invites the man and his company inside for refreshments. It then becomes an impromptu mini-soiree.

2) If the lady joins in the singing. It is a little known fact that some harana pieces, such as Maala-ala Mo Kaya (track #4) is a good example, actually have sections where the lady is invited to sing her part.
Harana is an exclusively nocturnal practice. Because of the daytime tropical weather, the evening offers respite from the heat. It is the time when everybody comes alive, full of romantic ideas, and as is typical of Filipino nature, always ready to enjoy the company of friends and loved ones. It was during this old Philippines, before the widespread use of electricity, that harana was at its ripest.
I once asked a Manang (elderly Filipina) who lived in a rural area why she thought the practice of harana has died. She apparently was serenaded many times in her youth. She wryly replied "Hijo, I think it's rather difficult for a man to sing under the window of a woman who lives on the 12th floor." Unscholarly maybe, but it was Manang's way of saying that modernity has killed it. Harana was conducive only in a rural setting, a quiet breezy evening, the moon visible, the stars twinkling, and the reasonable window height of a small hut.
Himig (Melody)


by Jose Valdez



Jose Valdez is undoubtedly the most prolific guitar arranger and compiler of classic Philippine songs. His arrangements and compositions contain the true essence and sentiment of Philippine love songs captured through an intimate instrument that often accompanies suitors on a harana.

The release of his compilations The Philippine Guitar, from which six songs were culled for this album, illustrates a wealth of music set in perfect melding of song and instrument. Though Himig is written for solo guitar, the melody suggests the lilt of a song.

Dahil Sa Isang Bulaklak (Because of a Flower)
by Leopoldo Silos, Arr. Florante Aguilar

The lyrics of this immortal Tagalog love song is as memorable as its melody. It is written by the great Levi Celerio who perhaps single-handedly elevated the art of the Tagalog song poetry. It metaphorically speaks of how a love is born, a heart broken, and tears shed - all because of a single "flower".

Though Mang Levi wrote over 4,000 songs as composer and lyricist, he died dirt poor at age 91 unable to collect royalties. When asked how much he earned for his composition Kahit Konting Pagtingin (Just A Little Glance), he answered "Konti rin" ("also just a little").

Nahan (Where)
by Ernani Cuenco, Arr. by Jose Valdez

Ironically, this romantic theme was originally a soundtrack for Celso Ad Castillo's 1974 horror film Patayin sa Sindak si Barbara or Kill Barbara with Fear. Lyrics were added later and it has become one of Cuenco's most popular songs.


Maala-ala Mo Kaya (Will you Remember)
by Constancio de Guzman, Arr. Florante Aguilar

Written in 1940, this classic harana song is usually sung as a duet. The lyrics illustrate that these lovers' predicament of belonging to different social classes, i.e. rich and poor, can be overcome. One asks the other to remember their pact of undying love, while the other answers with an outpouring of reassurance.

This song was featured in the 1954 film of the same title starring Philippine film legends Rogelio de la Rosa and Carmen Rosales.

Liman Dipang Tao (Rush Hour Crowd)


by Ryan Cayabyab,

Arr. for Two Guitars by Florante Aguilar

Riding a jeepney during rush hour in Manila, this song's heroine spots her husband with another woman. She commands the driver to stop, negotiates the madding crowd and gives chase. In her frenzy, she stumbles and falls in front of the couple. He helps her up as their eyes lock upon each other. "Oops, big mistake. Sorry mister, I thought you were my husband." Embarassed, she berates herself for the antics that caused her to wait for another jeepney and get stuck in Liman Dipang Tao - literally translated as five arm-lengths of people - or the rush hour crowd.


Usahay (Sometimes)
by Juanito Gonzales, Arr. by Jose Valdez



Usahay is a famous Visayan song that tells about the woes of unrequited love. It was recorded and popularized by the Cebuana Pilita Corrales and earlier by Cely Bautista.




Babalik Ka Rin (Return to Me)
by Constancio de Guzman, Arr. by Jose Valdez

Although de Guzman is most famous for what is probably the most popular nationalistic kundiman of all time, Bayan Ko (My Country), he wrote lesser known melodies that are no less memorable. Babalik Ka Rin, written in the 1930s, is such an example. It is written in the habanera style with a simple but tuneful melody that lends itself naturally on the guitar.

The classics de Guzman wrote such as Gaano Ko Ikaw Kamahal, Maala-ala Mo Kaya and Ang Tangi Kong Pag-ibig, demonstrate his gift for naturally-flowing and indelible melodies.

Sa Ugoy ng Duyan (Swing of the Hammock)
by Lucio San Pedro, Arr. Florante Aguilar

Born in 1913, San Pedro is considered one of the most revered Philippine classical composer. His body of works includes symphonic works, brass band music, violin concertos, choral works, cantatas, chamber music, and songs for solo voice. But he is most popularly known for his lullaby Sa Ugoy Ng Duyan. He intended to submit this song as an entry to a contest commissioned by the Japanese Occupation Army. He, however, was unable to find a lyricist.

After the war, he received a scholarship to study at the Julliard School in New York. In 1948, on his way back to Manila in a steamship, he met the great poet Levi Celerio who wrote the lyrics on the spot while San Pedro was playing it on a piano.

The song was based on a melody that San Pedro's mother used to hum as she puts her children to sleep.

Minamahal Kita (Loving You)
by Miguel Velarde, Jr., Arr. Jose. Valdez

Written in 1937, Minamahal Kita speaks of a man's promise of undying love to his beloved. The song was first heard in the 1940 film Niña Bonita, where it was sung by Elsa Oria.

Mike Velarde, Jr. also wrote the popular and quintessential Filipino love song Dahil Sa Iyo.

Kundiman in D
by Jose Valdez

With over 300 years of colonial rule, Spain had the greatest influence in shaping Philippine music. The kundiman, which originated from the Tagalog region during the latter half of Spain's domination, is the classic Filipino love song. It is the song form most sung in a harana. It begins with a sad melody typically in the minor key, and ends with a happier mode in its parallel major key. It is written in 3/4 time, with the accent on the second beat of every second bar of the melodic phrase.

The lyrics are sentimental and full of yearning, often in a context of a man expressing his humility and unworthiness of a girl's love. In fact, the word kundiman is said to be a contraction of its most-often used Tagalog words "kung hindi man", the beginning of a phrase that translates into "Though I'm not worthy".

The years 1880 to 1930 mark the golden age of the kundiman. Written for solo guitar, Kundiman in D illustrates the classic form and sentiment of this art song.

Himutok (Whimper)
by Nicanor Abelardo, Arr. Jose. Valdez

Born in 1893, Abelardo is considered the father of the kundiman. He wrote 149 of these love songs of which Mutya ng Pasig, Nasaan Ka Irog and Himutok have become classics. He also wrote Bituing Marikit for the legendary Atang de la Rama, queen of the kundiman, who made it her signature song.


Matud Nila (They Say)
by Ben "Karpo" Zubiri, Arr. Florante Aguilar

With its haunting melody and romantic idealism, Matud Nila has achieved the status of an "immortal Cebuano song". The opening lines of the song are typical of the traditional harana in kundiman form - the plaint of a humble lover, conscious of social censure, who offers the gift of a love "more precious than gold."



| | |
| --- | --- |
| Matud nila ako dili angay | They say I am not worthy |
| Nga magmanggad sa imong gugma, | To yearn for your love, |
| Matud nila ikaw dili malipay | They say you will not be happy |
| Kay wa akoy bahandi nga kanimo igasa | For I have no wealth to offer you |
| Gugmang putli mao day pasalig | A pure love is my only troth, |
| Maoy bahanding labaw sa bulawan | A wealth more precious then gold |



Manang Biday (Based on Ilocano Folksong)


by Florante Aguilar





This composition, based on a popular Ilocano folk song, is the result of a composition/arranging class taught by Ryan Cayabyab at the University of the Philippines Conservatory of Music. Students were assigned a basic folk melody, to be reharmonized, rendered a classical form, and made to be seen in a different light. The result is a composition in neo-classic form that is rich in chromaticism, modulation, and that demands virtuosity from the performer.




Hindi Kita Malilimutan (Never Shall I Forget You)
by Manuel Francisco, Arr. Florante Aguilar

Based on Isaiah 49: 15-16, the words of this song were written by a class of high school freshmen from a Manila Jesuit school intended as an entry for a liturgical song contest. A few students were assigned to set it to music for which Manuel Francisco's composition was chosen.

The song went on to win the contest. However, it was unbeknownst to the class that they have created a classic. The melody's simplicity was to inspire people to tears. The song rapidly spread all over the archipelago, overseas and has now become a standard in Philippine parishes.